Kianna, here, with the first in our 2015 Hot MAMA Hot Reads series, where each month, we'll feature a special guest author we love! We know that our readers are voracious, some of you have told me you can finish a good book in a single day. So in order to keep up with your amazing appetite for books, we'll be introducing you to some authors you may enjoy. After all, the nine of us can only write so fast :)
This week, our special guest is Kimani Romance author, Sheryl Lister. Here's her bio, via her website:
Sheryl Lister has enjoyed reading and writing for as long as she can remember. After putting writing on the back burner for several years, she became serious about her craft in 2009. She writes contemporary and inspirational romance and romantic suspense. When she's not reading, writing or playing chauffeur, Sheryl can be found on a date with her husband or in the kitchen creating appetizers and bite-sized desserts. Sheryl resides in California and is a wife, mother of three and pediatric occupational therapist. She is a member of RWA, CIMRWA and is represented by Sarah Younger of Nancy Yost Literary Agency.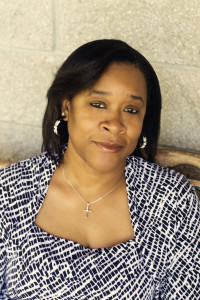 Thanks for coming on, Sheryl, and welcome to Hot MAMA Land.
First, I'd like to say thank you for allowing me to hang out on the Hot M.A.M.A. blog.
When did you first know you wanted to be a writer?
I've wanted to write for as long as I can remember, but never thought I could make it a career. As a teen, I would often sit outside on the porch and write short stories. However, it wasn't until five years ago and I completed a full length novel that I knew for sure that it was something I wanted to do.
Name your top 6 favorite authors.
This is a
tough one because I have so many.
Beverly Jenkins, Francis Ray, Maureen Smith, Patricia Cornwell, Brenda Jackson, Leslie Esdaile.
Describe your writing routine. Where do you write? What time of day? What are your writing tools/equipment of choice?
Because of my back, most of my writing is done on my bed using my laptop. I write in the morning and early afternoon before my daughter gets home and for two to three hours at night. Before I get started, I make sure to have my post it notepads, colored pens, R&B playlist, two bottles of water and raw almonds or plantain chips to snack on.



Tell us about your latest release, and where we can purchase it.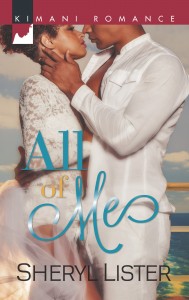 My latest release is All Of Me.
Declaring a "dating hiatus" was an easy decision for teacher Karen Morris. She intends to unwind and enjoy a luxurious Caribbean cruise

without

the presence of her cheating ex-boyfriend. But surprisingly all it takes is the deliciously sculpted form of chivalrous businessman Damian Bradshaw to turn Karen's head and change her mind....
Damian's friends are determined to save him from his widowerhood—and self-imposed celibacy. But no one is more shocked than Damian when Karen catches his attention and awakens his desire. Something about her ignites an insatiable need that neither of them can deny. The chemistry is inexplicable. But once back on dry land, real life awaits—along with their pasts. Will the promise of a bright future be enough to rehabilitate their reluctant hearts?
I love to hear from readers. Feel free to contact me any time.
Sheryl is graciously offering a $5 Amazon gift card to one lucky commenter! For your chance to win, answer this question in the comments: Sheryl mentioned that her favorite writing snacks are raw almonds and plantain chips. What are your favorite snacks when you're reading or writing?
Be sure to follow the blog, and check back often to see what we're up to. There's always something on the burner in Hot MAMA Land :)